Ugreen 18W Micro USB Quick Charging Cable 1M
Free Delivery




From MVR 1.00
Ugreen 18W Micro USB Quick Charging Cable 1M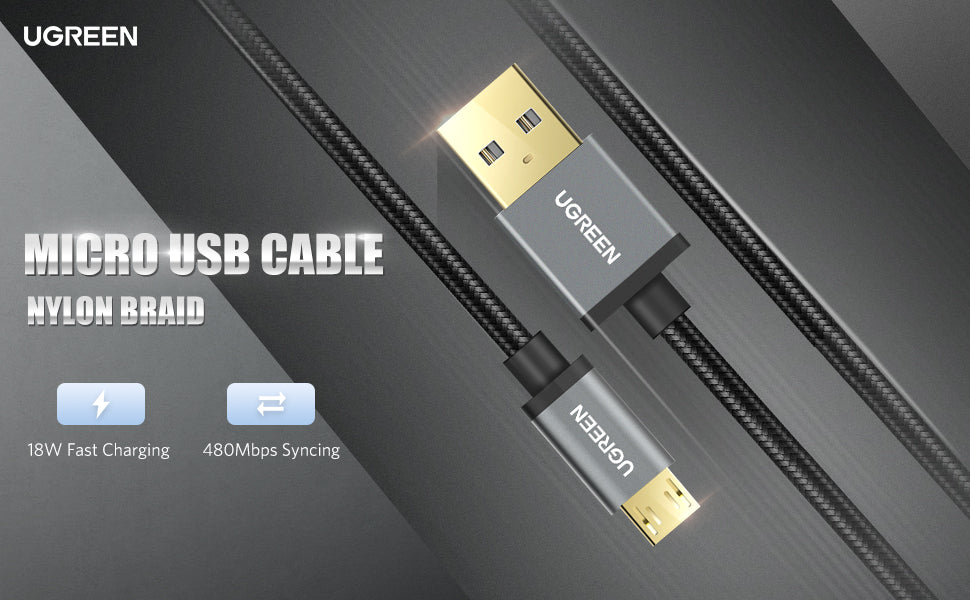 Why UGREEN Micro USB charging cable?
18W fast charging, 480Mbps data transfer
Gold-plated connector, reinforced mesh tail, nylon braided cable
5000 times bending test, 10000+ plugging test, 100N pulling test
Compatible with all MIcro USB devices
Multiple lengths available
Important Notes

1.Please kindly use common/quick charge Power Adapter/Car Charger with Standard output of 5V/2.4A, 9V/2A, 12V/1.5A. Non-standard power adapter/car charger is not accepted.
2.Please plug and unplug the micro usb cable in a horizontal level correctly
Universal Compatibility

Compatible for PS4 Controller / Xbox One Controller/ Huawei P8 /P8 Lite /Bluetooth Speakers/Portable/ HTC Wildfire R70 / Exodus 1s/Desire 12/One X10
Power Banks or Portable Batteries, Portable or Bluetooth Speakers, MP3 Players, Digital Cameras and Camcorders and other Micro USB connecting devices


| | |
| --- | --- |
| Connector Type | Micro Usb, Usb 2.0 |
| Cable Type | USB |
| Compatible Devices | Samsung Galaxy S7 Edge/S7/S6 Edge/S6/S4/S3, Note 5/Note 4/Note3/J3/J7/A3/A5/A7,LG G4/G3/G2,LG G3/G3 Stylus/G2/V10/K10,LG V10,LG Optimus,LG Flex 2, Motorola Turbo,Moto X,Moto G,Moto E, Moto G6/G5/G4/G3, Moto Turbo, Moto X, Moto G, Moto E, HTC One A9,HTC ONE M9/M8/E8,One Remix,HTC Desire 626/626S, HTC One M7/M8/M9/M9+/A9/E8, Microsoft Lumia 430/435/532/535/540/550/640/640 XL/650, BlackBerry Z10,NOKIA Lumia Series,NOKIA X Series, Samsung Tab 4/Tab 3/Tab A/Tab E/Tab S2/Tab S/Tab Pro, PS4/Xbox/PS Vita/E/Nintendo DS - readers/Printers, Wireless keyboards/Digital Cameras/Camcorders/Bluetooth Speakers/MP3 Players/Hard drives/Portable Charger/Windows Notebooks/GPS devices |
| Color | Black |
| Brand | UGREEN |
| Product Dimensions | 5.71 x 3.15 x 0.08 inches |
| Item Weight | 0.704 ounces |
| Item model number | 30649 |
| Connector Gender | Male-to-Male |
| Gauge | 21 |
| Data Transfer Rate | 480 Megabits Per Second |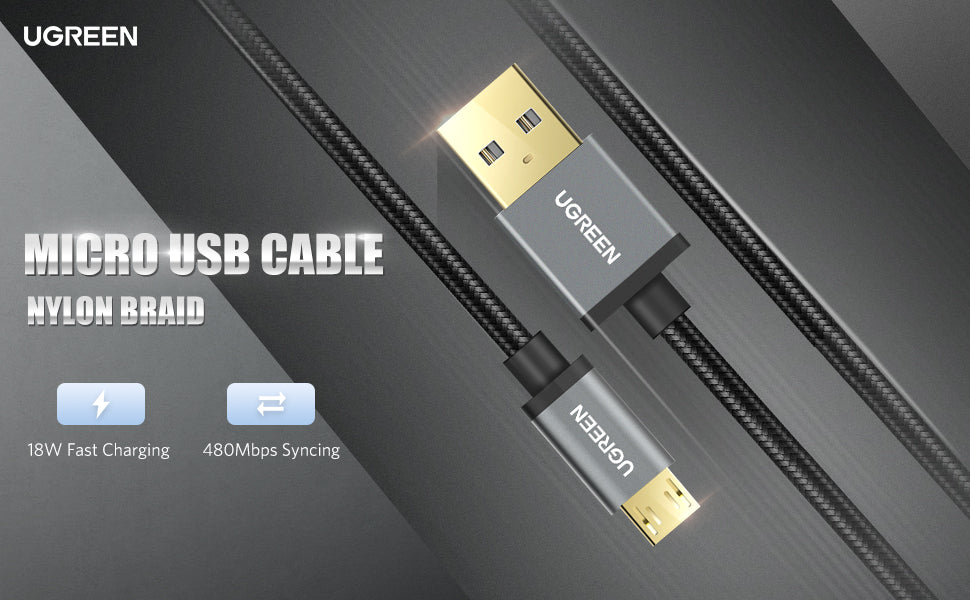 Why UGREEN Micro USB charging cable?

18W fast charging, 480Mbps data transfer
Gold-plated connector, reinforced mesh tail, nylon braided cable
5000 times bending test, 10000+ plugging test, 100N pulling test
Compatible with all MIcro USB devices
Multiple lengths available
Important Notes

1.Please kindly use common/quick charge Power Adapter/Car Charger with Standard output of 5V/2.4A, 9V/2A, 12V/1.5A. Non-standard power adapter/car charger is not accepted.
2.Please plug and unplug the micro usb cable in a horizontal level correctly
Universal Compatibility

Compatible for PS4 Controller / Xbox One Controller/ Huawei P8 /P8 Lite /Bluetooth Speakers/Portable/ HTC Wildfire R70 / Exodus 1s/Desire 12/One X10
Power Banks or Portable Batteries, Portable or Bluetooth Speakers, MP3 Players, Digital Cameras and Camcorders and other Micro USB connecting devices


Specs
| | |
| --- | --- |
| Connector Type | Micro Usb, Usb 2.0 |
| Cable Type | USB |
| Compatible Devices | Samsung Galaxy S7 Edge/S7/S6 Edge/S6/S4/S3, Note 5/Note 4/Note3/J3/J7/A3/A5/A7,LG G4/G3/G2,LG G3/G3 Stylus/G2/V10/K10,LG V10,LG Optimus,LG Flex 2, Motorola Turbo,Moto X,Moto G,Moto E, Moto G6/G5/G4/G3, Moto Turbo, Moto X, Moto G, Moto E, HTC One A9,HTC ONE M9/M8/E8,One Remix,HTC Desire 626/626S, HTC One M7/M8/M9/M9+/A9/E8, Microsoft Lumia 430/435/532/535/540/550/640/640 XL/650, BlackBerry Z10,NOKIA Lumia Series,NOKIA X Series, Samsung Tab 4/Tab 3/Tab A/Tab E/Tab S2/Tab S/Tab Pro, PS4/Xbox/PS Vita/E/Nintendo DS - readers/Printers, Wireless keyboards/Digital Cameras/Camcorders/Bluetooth Speakers/MP3 Players/Hard drives/Portable Charger/Windows Notebooks/GPS devices |
| Color | Black |
| Brand | UGREEN |
| Product Dimensions | 5.71 x 3.15 x 0.08 inches |
| Item Weight | 0.704 ounces |
| Item model number | 30649 |
| Connector Gender | Male-to-Male |
| Gauge | 21 |
| Data Transfer Rate | 480 Megabits Per Second |